Happy Thursday! We are so so close to the weekend & I can't tell y'all how excited I am! There are lots of exciting things going on this weekend so this week feels like it has dragged on. On Saturday, I am getting doing my final fitting for my wedding dress, which is a little nerve wrecking because that means nothing about me can change between now and September. I guess that means I need to stop eating dessert every night? Let's be honest, we all know that isn't going to happen.
The main reason I am so excited for this weekend is that it is our first engagement party! This one is very special to me though because it is one for both of my brothers & myself and is being thrown by my Aunt and Uncle here in Charleston. My brother, Richard, is marrying a Charlotte native in November, so her family will be here for the engagement party.
My oldest brother, Robert, is marrying a Kiwi. For those of you who don't know, that means that she is from New Zealand, which is where their wedding will be taking place in February. My whole family will be traveling down there to celebrate them on their special day, so that is definitely a trip I am looking forward to. Robert is currently living down there with his fiancé and her family, which means they unfortunately won't be able to be here for one of their own engagement parties, but we have a big projector that we are going to FaceTime them on for the whole party! How funny is that?
We have tons of family and friends coming into town for this party so I am just so excited for everyone to get together to celebrate the engagements of my brothers & me.
Moving right along to today's outfit: I have found the perfect summer neutral tank!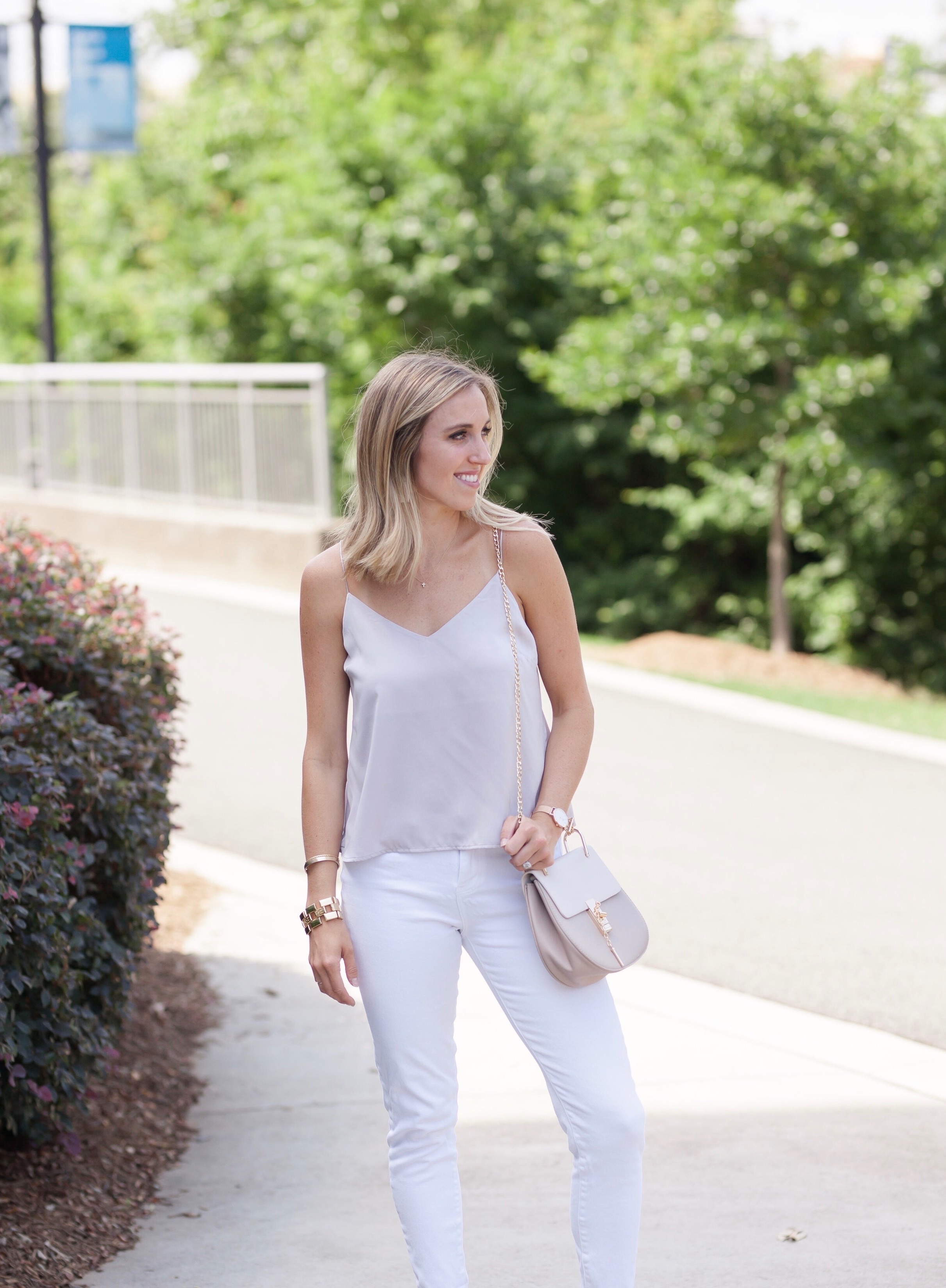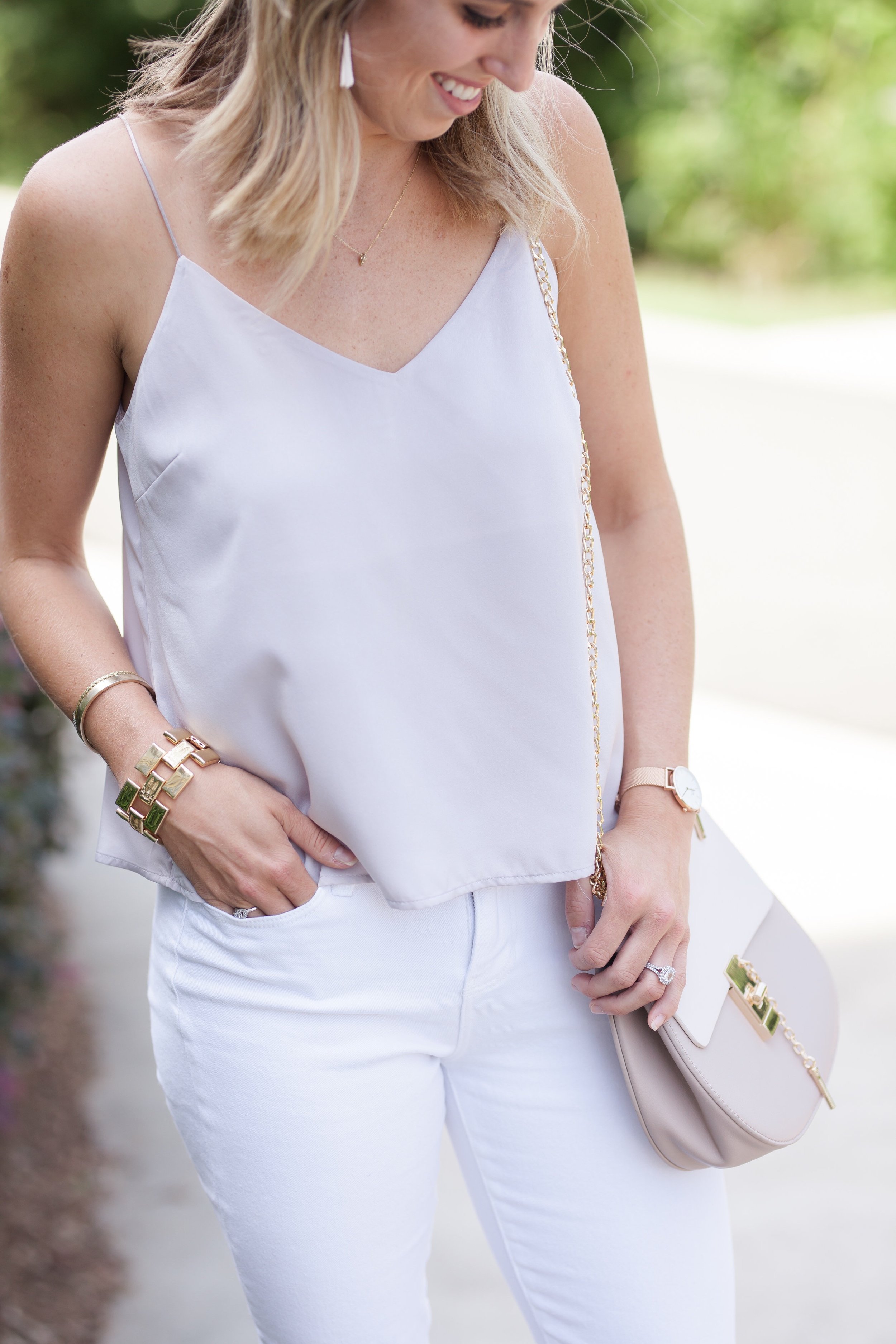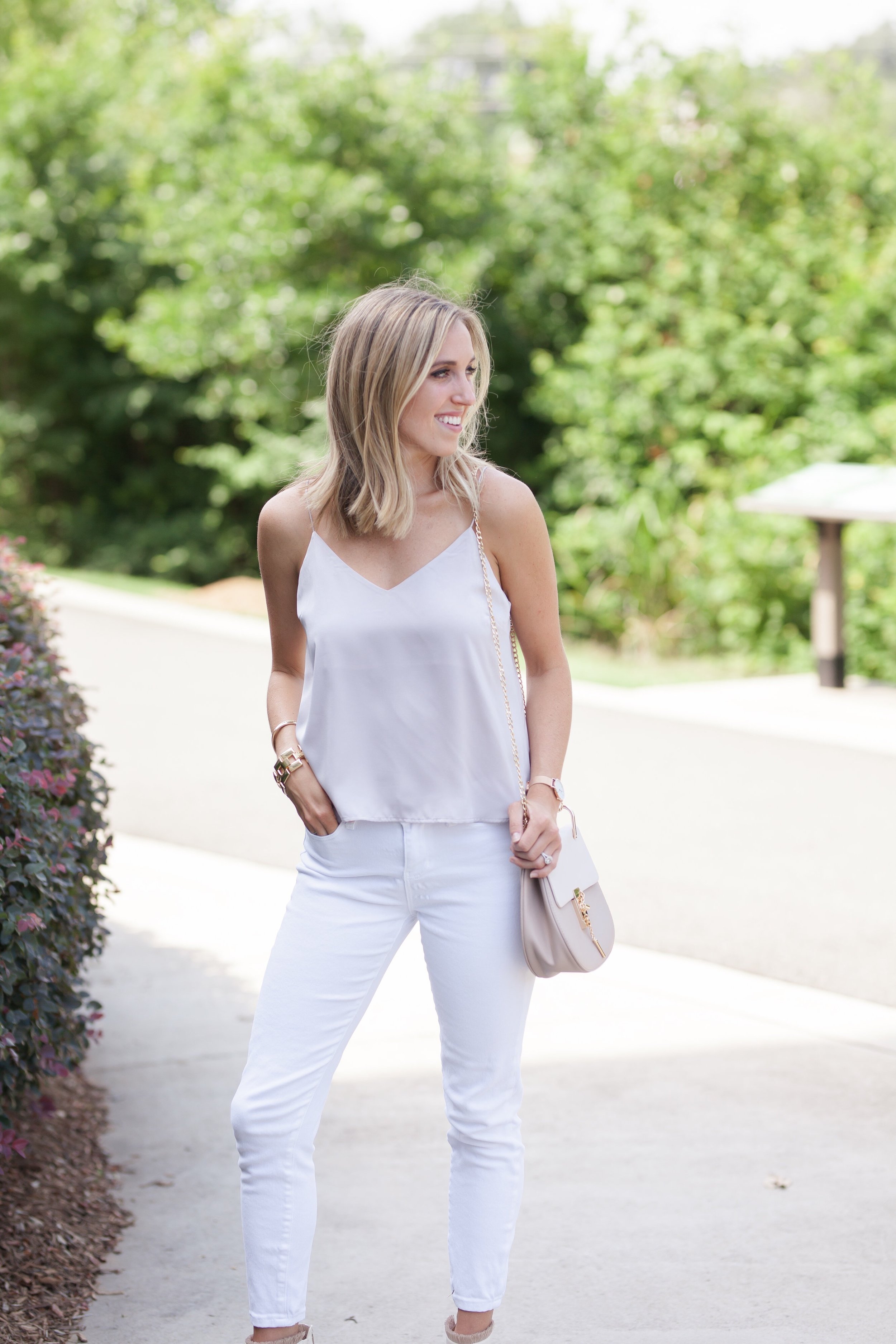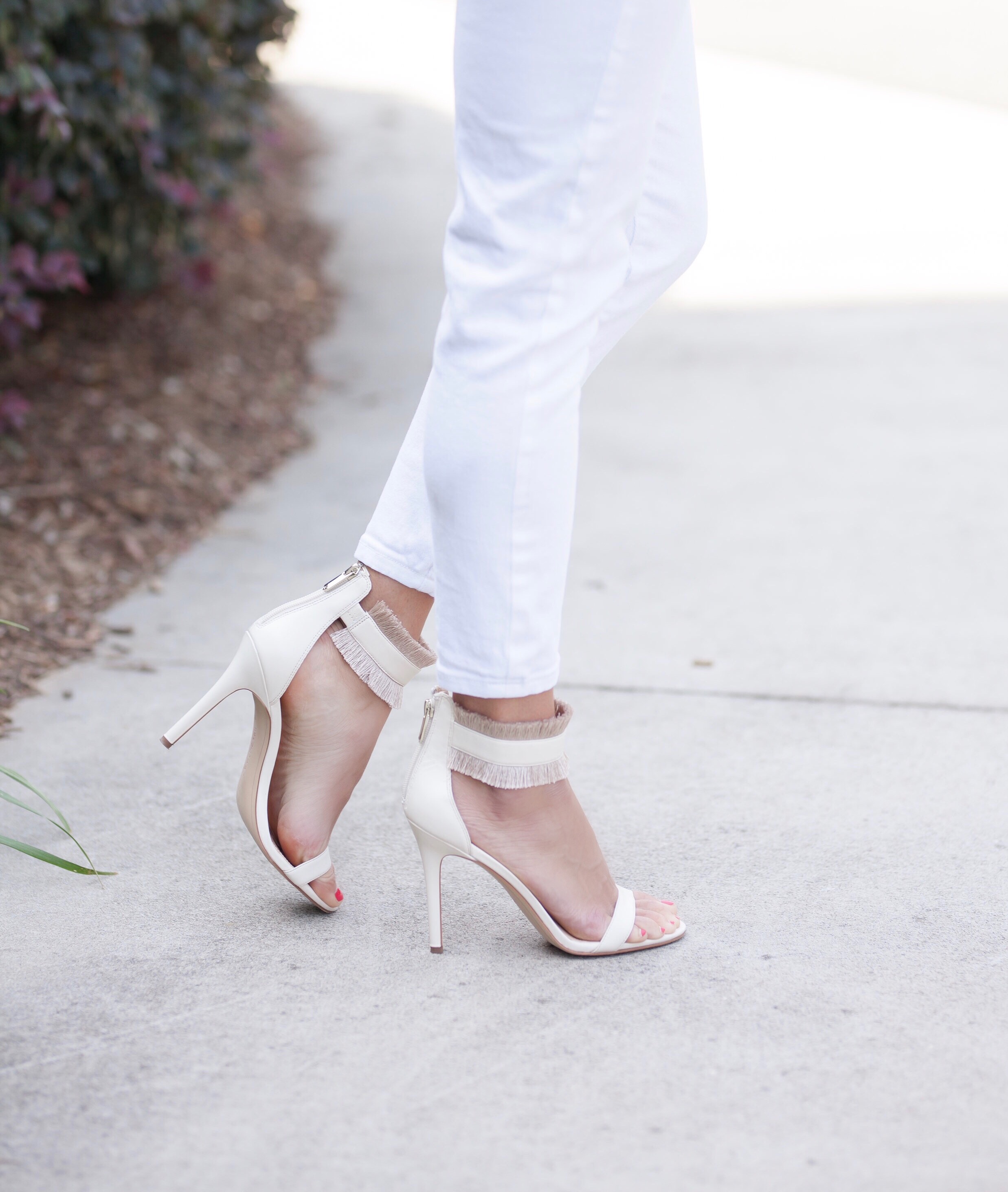 I don't know about y'all, but while I do love a good statement earring, I also LOVE wearing neutrals during summer. This tank is only $34, which therefor already makes it one of my favorite tops ever.
This top is perfect for work or play. You can wear it to work with a blazer and a pair of navy skinny pants with heels then take off the blazer for drinks with the girls.
I wore one of my new favorite pair of earrings with this top to kind of go with the theme of staying neutral. They are so cute with a flower style post then white beaded tassels. Y'all, I'm telling you, you're going to LOVE these.
For jewelry, I wore my absolute favorite link bracelets from my friends Gold Bug Collection (you can view her whole collection HERE). This bracelet can go with anything and can be stacked with any other bracelets you have. It's a little on the more expensive side of jewelry I own, but I've had this for two years and wear it all the time, so I definitely think you all should get one!
I know y'all have seen me wear this handbag before, but you will continue to see it again and again because I love it so much. It is the perfect mix of neutrals for summer and you will LOVE it! This bag is the perfect dupe for the Chloe handbags, which range anywhere from $1,500-$3,000. THIS bag is only $30 and looks almost exactly like it!!!
The shoes I paired with this were one's that I would wear out to a nicer dinner with this top & they perfectly matched the outfit, so what else could you ask for? ;) I love the fringe details on these shoes how comfortable they are, so if you are looking for shoes for a wedding or any kind of cocktail party, these should be your go to!
I hope you have a great rest of your Thursday! If you have any suggestions on great things to do in New Zealand, please comment below or send me an email :)
Here are the links to my outfit:
TOP | EARRINGS | HANDBAG | BRACELET | SHOES | GOLD BUG COLLECTION |
I hope you have a wonderful rest of your Thursday & if you have any recommendations for New Zealand, comment below or send me an email!
It's the southern way,
Kathryn